Strategic Plan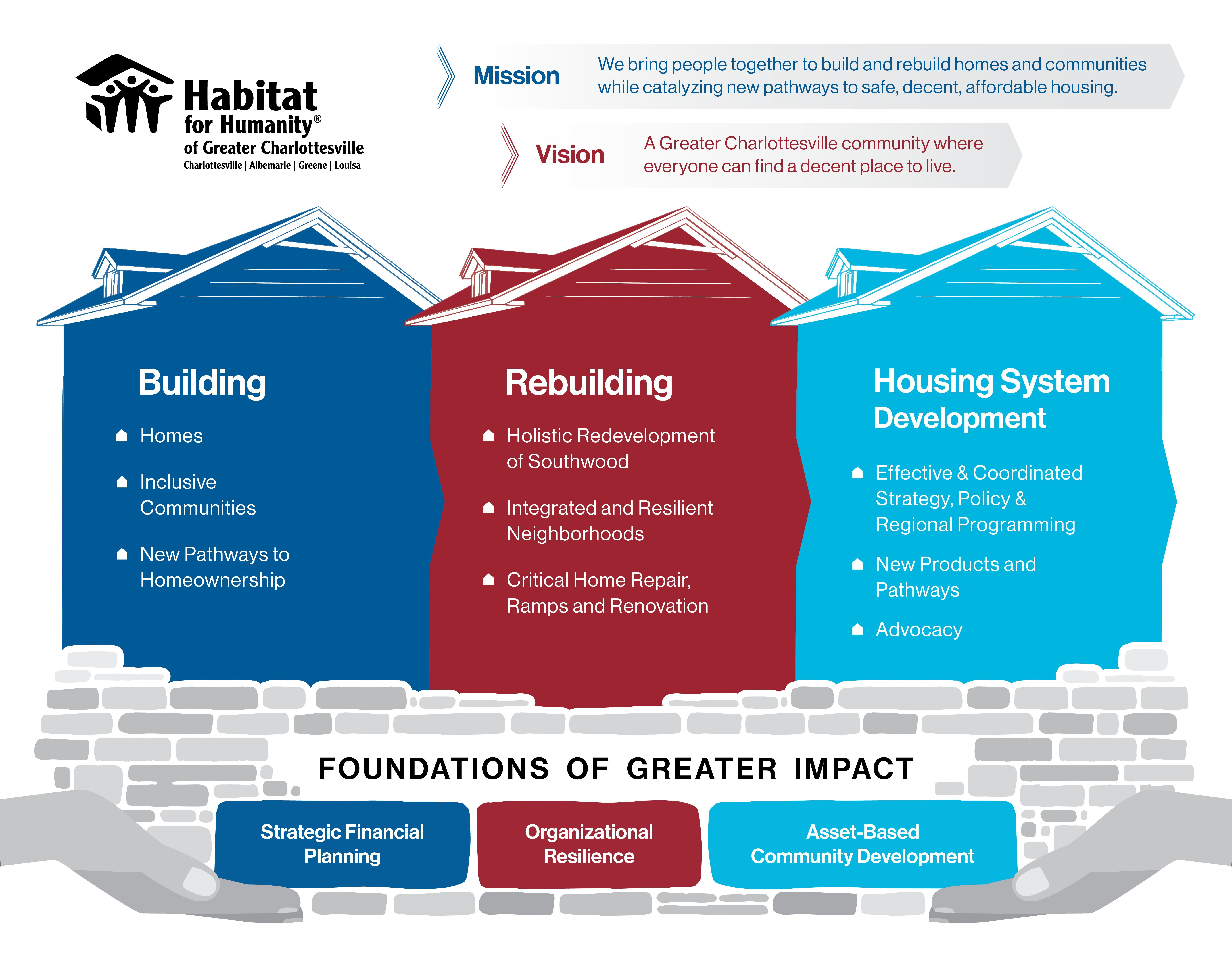 Our response to the local housing crisis is to innovate—and to think beyond the home so that more families can enjoy the benefits of a healthy home.
Our new strategic plan calls for us to leverage our core family homeownership work to catalyze new pathways to simple, decent, affordable housing for more people than ever before.
The three "houses" of the plan—Building, Rebuilding and Housing System Development —represent a holistic approach that will enable us to achieve impact at an unprecedented scale, directly addressing the conditions that cause housing poverty in the first place.
Building: We will achieve consistent building operations of at least 40 homes annually and work to address generational poverty by better supporting and empowering applicants who have been systemically excluded from ownership opportunities.
Rebuilding: We will continue transformational efforts of asset-based, systemic and sustainable neighborhood revitalization at Southwood and will investigate new opportunities for adding affordable housing stock to middle - and higher-income communities. We will utilize home repair and renovation to serve more families, particularly in rural areas.
Housing System Development: We will continue to catalyze greater sector efficiency, coordination, advocacy and marketplace innovation so that everyone can find a pathway to decent and affordable housing. In particular, we will work to productively change systems that have created structural imbalances and barriers in housing. 
These goals rely on a continued commitment to bolster our foundations in strategic financial planning, private and public financial support, organizational development and asset-based community development. Mortgage sales and public funding for Southwood infrastructure will be emphasized as we continually work to maintain a future land inventory, build a reliable annual fund at a higher-than-current level and update policies and internal strategies to reinforce organizational resilience and dexterity in an increasingly dynamic and volatile political and economic environment.